Andrej Pejić was born in Bosnia in August 1991, but moved to Australia as a child. By age 13 he had doubts about his gender and came out to his mother. He then gradually transitioned to dressing and living as a girl.
In 2008, age 17, he sent photo's to the Chadwick agency and was signed by them as a "female" model. After a slightly slow start, he became an androgynous phenomenon during the second half of 2009, and in January 2010 became the first acknowledged man to ever walk a Paris haute couture runway in a dress – closing the Jean Paul Gaultier's spring/summer 2011 show dressed as a bride!
The rollercoaster continued in 2011, with numerous covers for Vogue and other top magazines. He was also ranked no. 98 in FHM magazine's '100 Sexiest Women in the World 2011'. But he still wasn't taking female hormones as his success was built on having very feminine facial features but a masculine body.
Andrej Pejić
in 2011 (left) and 2013. Note the slight breast development in the later, he had just started hormone therapy.
Confusion as to whether or not Andrej was transsexual was effectively resolved when in a 2011 interview she said that that she would have sex change surgery to get into the Victoria Secret catalogue: "If that's what it takes for me to make it in this industry, I mean, why not". When later asked if she was joking, she said "Well I may as well get paid for it [sex reassignment surgery]." Her comments were also ironic given the speculation as to which Victoria Secret models might be transsexual.
She later admitted that she was terrified of puberty, and with the increasing support of her mother took testosterone blockers through out her adolescence. Only her success as a androgynous model delayed her transition.
Andreja Pejić
,
transitioned and post SRS. February 2015 and a 'selfie' dated July 2015 .
Andrej took a career break in the summer of 2013, and in July 2014 reappeared as Andreja (her new legal name). She confirmed on her facebook page that she had undergone sex reassignment surgery (age 22) earlier in the year - after 18 months of hormone therapy. It was performed by Dr Toby Meltzer in Scottsdale, Arizona. Cost: $23,000 to $28,000She said in an interview:
"I identify as a female. I figured out who I was very early on—actually, at the age of 13, with the help of the Internet—so I knew that a transition, becoming a woman, was always something I needed to do. But it wasn't possible at the time, and I put it off, and androgyny became a way of expressing my femininity without having to explain myself to people too much. ... [SRS] was a personal decision. I took this step, and I said to myself, My career is just going to have to fall into place around it. So I hope that I can continue my success. I think I've shown that I have skills as a model, and those skills don't just go away."
This photo posted by Andreja in August 2015 clearly shows small (210cc?) anatomical breast implants
Post-SRS and on a full regime of female hormones, by November 2014 she seemed to be naturally filling the A cup trainer bra's she had taken to wearing.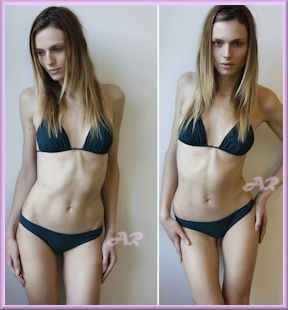 In early 2015 she had breast augmentation surgery. Since then she has regularly posted on social media 'selfies' showing herself in revealing outfits and skimpy bikini's - which she admits she loves to now be able to wear.
Returning to modelling after her SRS was a necessary gamble. Her transgender story would sell a magazines for a few months, but to make serious money in to her 30's she needed to be just a top female model whose photos women can relate and aspire to.
Since 2014 she's appeared in campaigns for Marc by Marc Jacobs and Jean Paul Gaultier, and has walked the runway for Giles. But a jackpot was won in March 2015 when she became first ever face for a beauty campaign by the hugely successfully American brand Make Up Forever. Andreja was revealed at the announcement event with pantheon of her modelling assignments - and with no hint of her past. Hundreds of millions of women around the world have since seen the adverts featuring Andreja in a 'Be Bold Be You' campaign. (e.g. right).

Andreja in Dazed Magazine, Summer 2015 issue

In July 2015 Andreja Pejic was profiled in the Summer 2015 issue of Dazed Magazine for a feature called: 'Becoming Andrej(a)'. This included the first topless photo's of her since announcing her transition. She also confirmed that a crowd funded documentary of her journey from Andrej to Andreja was still in production.
By early 2016 many other quite revealing pictures of Andreja had been published. Presumably she decided that occasional near-nudity was a price that she had to pay in order to remain a top model - with commensurate financial compensation.