Amanda Lear is arguably the male-to-female transsexual superstar of the 1960's and 1970's, but is hardly known in the UK and USA. This seems to because she has often lived and worked in France, and has refused to publicly acknowledge that she is transgender - despite the overwhelming evidence.
Alain Tapp transitioned and became Peki d'Oslo in 1959 or 1960.
Amanda was probably born Alain Tapp in Saigon (or France?) on 18 November 1939, but it might have been Hong Kong in 1941 or 1945 or even 1948 based on various statements she has made! She's apparently of mixed parentage, at various times she's claimed to have British, French and Indonesian fathers, and English and Russo-Oriental mothers. Although usually identified as being 'French', she actually holds a British passport and uses a Scottish surname!
After an education supposedly in Switzerland and England, by 1959 at latest Amanda had moved to France - still a tall, gangly and rather Asian looking boy. However plastic surgery on her nose and injections of oestrogen hormones dramatically changed her appearance. She first became publicly noticed in 1960 when she started working as an exotic showgirl and stripper known as Peki d'Oslo at the Le Carrousel revue in Paris.
Peki's exotic looks quickly attracted the eye of Salvador Dali and she became his intimate companion (despite his marriage in 1934 to Gala) and muse for many works. She often appeared in public with Dali in the 1960's and early 1970's - later capitalising on this with the book My Life with Dali.
As with much of Amanda's life, the book is very confusing as it claims that she first met Dali in 1965, despite photographic evidence showing them together in 1962.
In 1963 Peki had a sex-change operation, carried out in Casablanca by Dr Bourou and possibly paid for by Salvador Dali. Soon after this she changed her first name from Peki to Amanda and moved to London, where she quickly became part of the trendy "Chelsea Girl" set. She worked at night as a hostess at Raymond's Revue Bar, but during the day studied at St Martin's College of Art where she started to meet musicians such as Marianne Faithfull and Keith Moon.
She bleached her hair blond with great effect and in 1965 she was signed by a model agency. It wasn't long before she was cat walking for top designers and appearing on magazine covers, but her modelling career started to be hampered by rumours that she was a transsexual.
(Left) Top photographer Brian Duffy described Amanda as an "incredible model".
(Right) Amanda doing a photo shoot for Nova Magazine in the early 1970's.
Amanda desperately needed official documents that said she was 'Female'. Whilst visiting a Notting Hill pub in London with her friend April Ashley she encountered a Scottish student who was willing to marry her for £50. The newly married Mrs Lear quickly obtained a British passport based upon her marriage certificate, and then an equally rapid divorce. Oddly she decided to continue use her ex-husbands surname.
In early 1973 singer Bryan Ferry saw the supposedly 25-year old Amanda (implausibly making her pre-teen in her Paris showgirl days!) on stage modelling a collection for fashion designer Ossie Clarke, and invited her to feature as the cover girl for Roxy Music's new album "For Your Pleasure" (right). Their relationship culminated with a brief engagement for marriage. Thanks to Bryan, Amanda was now part of the "in crowd" on the London party circuit, mixing with the likes of Mick Jagger and Elton John. She met David Bowie and became one of several beautiful transsexual women (Romy Haag was another) that featured in his love life at that time, indeed they even lived together for a year and Bowie is one of her few admitted "lovers".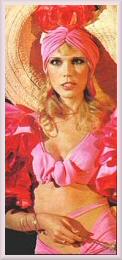 Amanda supported Ziggy (aka David Bowie) at the London Marquee, 18-20 October 1973
Amanda became part of David Bowie's stage act, and he helped launch her solo music career. In 1977 she signed her own record contract and soon became a huge disco star on mainland Europe in her own right. Her first two Albums, the 1977 I Am A Photograph and the 1978 Sweet Revenge, and the singles released from them, sold in millions around the world. In one of her hits - the 1979 Fabulous Lover, Love Me - she sings "the surgeon made me so well that you could not tell that I was not somebody else". The song did not help to douse speculation that she was a transsexual, something which she had been vigorously denying since being asked about this in a 1977 television interview.
Amanda had often been photo'ed or painted nude during her many years as a showgirl and Dali's muse. She appeared to have no reservations about again showing off her body as part of her attempts to counter claims that she was a transsexual. The album
Sweet Revenge included a topless photo of her (right), and very revealing post cards were sent to the members of her fan club. She posed nude for several men's magazines, including Playboy in 1978.
She also didn't seem too concerned about paparazzi photographers catching her unclothed and publishing the photos (e.g. left).
Whilst the nude photo's certainly proved to her delighted fans that she still had an amazing body whilst [almost certainly] being in her '40's, her denial of being a transsexual woman was not convincing. A comprehensive photographic trail had emerged going back to her Peki days, and the comments of former close acquaintances implied that she was a transsexual. Indeed April Ashley (a former colleague of Peki) was explicit about this, whilst quotes comments from the deceased David Bowie and Salvador Dali do not support Amanda's claim. Indirect and inconclusive evidence such as her masculine sounding voice and lack of children also do not help.
In 1979, Amanda married (right) Frenchman Alain-Phillippe Malagnac.
During '80's and '90's Amanda continued to record and perform her music, although she was unable to repeat the success of her early disco albums. However she successfully started two new careers - as a painter and as a TV host.
Tragedy struck Amanda in December 2000 when her home in France burnt down, killing her husband and destroying many of her and Dali's paintings.
In February 2007 she refused to be on stage with, or even near, transsexuals at a major gay event in Milan, Italy. This caused a lot of bad feeling with the crowd and the annoyed organisers - who complained about the "ambiguity" in her stance.