1975 Hızlım Benim (Comedy)
1975 Ah Nerede Vah Nerede
1975 Bu Kutu Baska Kutu
1975 Tatli Erkegim Benim (Drama)
1975 Horoz Gibi Masallah (Adventure)
1975 Sansar (Drama)
1975 Ye Beni Mahmut (Comedy)
1976 Kadinin Aarisi
1976 Lüküs Hayat (Comedy)
1976 Kayıkçının Küreği (Comedy)
1976 Yarim İstanbul' u Mesken mi Tuttun (Drama)
1976 Yumurtanin Sarisi (Drama)
1976 Kader Bu (Avare) (Adventure)
1977 Enayiler Krali (Comedy)
1977 Ask Arzu ve Silah (Drama)
1977 Hayata Dönüs
1977 Ölüm Döşeği
1977 Gönül Ferman Dinlemez (Drama)
1977 Vur Gözünün Üstüne (Drama)
1978 Ne Olacak Simdi (Comedy)
1979 Babanin Kizlari (Drama)
1979 Vur Vur Kaç Kaç (Drama)
1979 Erkeğim Benim
The production rate was prolific, at times in the mid-1970's Emel was appearing in cinemas in a new movie every month!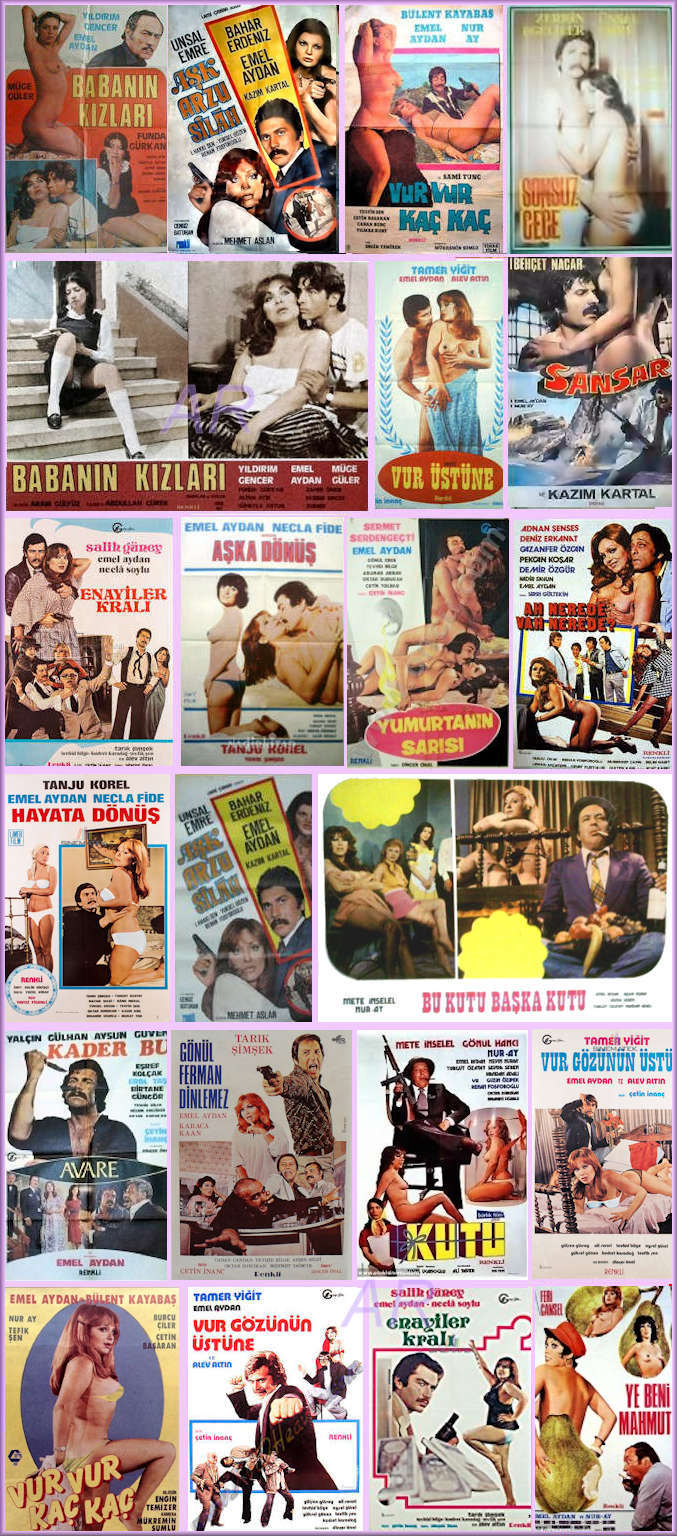 Some more of the many 1970's Turkish film posters featuring Emel. Several feature Nur Ay.
Whilst many posters hint at erotic scenes, these tend to be quite tame by modern standards.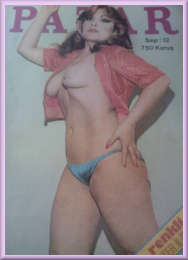 Emel on the front cover of the popular Turkish men's magazine Pazar
Most but not all of the movies included scenes of an erotic nature with Emel scantly clad or in a state of undress (e.g. in a bath). Several have shots of her being intimate with a man, although rarely sufficiently provocative or lengthy for a "18" or even "15" classification in the UK - many modern TV series have more revealing sex scenes.
On the set of the 1975 movie Ah Nerede Vah Nerede, Emel encountered the actor Gazanfer Özcan with whom she had appeared in several plays whilst still a teenage boy. At first he was very flattering to Emel and was clearly trying to chat her up, but he started to become puzzled. He finally asked if she was Erdoğan, and she nodded "yes". He didn't talk to her again until they filmed a sex scene several days later.

The front cover of Emel's record Türk Müziğinden Anılar
During the 1970's Emel often appeared in men's magazines such as Adam, Bravo, Modern and Pazar. Emel also continued to aspire as a signer and released several songs, by far the most successful of these was her 1980 long-play single Türk Müziğinden Anılar ("Memories of Turkish Music")