Note:
This short biography is derived from the scanty English and French language sources I have found on Pascale Ouribih, and probably contains many inaccuracies. If someone can send me more accurate information, preferably in English, I would be grateful.
Pascale Ourbih was born in Algiers in 1972. After finishing school he began to train as a pharmacist, but moved to Paris in the mid-eighties when age 18, she has lived ever since. Soon after arriving in Paris she began hormones, getting injections every 10 days, and had her surgery the following year.
She works for the Maryline Gautier model agency. She models for fashion shows, poses for photos and takes acting lessons. She has been a consultant in psychology for ten years, and her hobby is astrology. She also works as a volunteer for an AIDS prevention association. In 2000 she was approached by the director Pierre-Alain Meier to star in his new film "Thelma", which was released in April 2002.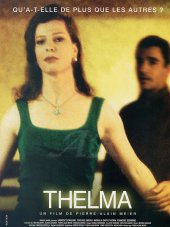 In the film, Pascale stars as Thelma, a beautiful, 30-year-old woman who was previously a man named Louis. Thelma hires taxi driver Vincent to drive her across Europe to Crete, to see her ex-lover Fenia. Vincent becomes a friend and would-be lover – until he discovers her secret. Once in Crete Thelma's past as a man reappears when she meets Eleni, the daughter she had with Fenia. Thelma becomes torn between her need to be a woman and the need to be a father to her child, but Vincent is able to overcome his revulsion to provide the love and support she needs. Piere says "I decided to shoot the film with a transsexual woman. Pascale Ourbih accepted this part even though it meant taking personal risks. From the moment you see Pascale naked in the film, the narration no longer works in a classical way…. How can a man become a woman? I tried to answer this question by showing Thelma's naked body and unveiling her provocative and troubling being."
More information about the movie and Pascale can be found on the official Thelma website.