Barry, age 5

Barry, now Caroline,
age 19. Still pre-SRS
Caroline Cossey (stage name Tula) is probably the most influential transsexual since Christine Jorgensen, and arguably she has made a far more positive impact on society and law.
Caroline was born in England as Barry Cossey in August 1954. By age 13 he had doubts that he was a boy and when 15 he decided that he was female and increasingly secretly dressed as such.
In July 1972, now 17, he moved to London to live with his sister, Pam. He immediately met other transsexuals who supported and encouraged her full-time transition as a girl - Caroline. She started taking hormones and soon got a job as a showgirl at club called the Latin Quarter. She legally changed his name to Caroline in March 1973.
An admirer persuaded Caroline to move to Kuwait (photo left) as his mistress, and provided her with a palatial apartment. But she was soon very bored and had no friends, and after just a few months she returned to Europe.
She soon had breast implants to aid her stage career, working at venues in Paris and Rome. In December 1974 she had her SRS operation at Charing Cross Hospital in London, still only age 20.
Caroline decided to pursue a career in modelling and adopted as her professional name the rare Tula to avoid conflict with other Caroline's. She ticked many boxes for the agencies - young'ish, tall (6 ft), attractive, long hair, long legs, good figure. The only slightly problem she faced was about her relatively large feet for a woman at size 8 UK. However this is actually average for a top model - and similar to contemporary super models such as Elle Macpherson, Jerry Hall and Tyra Banks.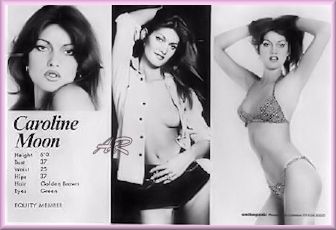 (Left) Caroline's very first professional modelling card, from 1975. By 1980, now called Tula, had evolved her make-up to give a softer and more feminine appearance in a later card (Right).
Caroline/Tula's modelling career soon took off and by the end of the 1970's she had widely appeared in magazines such as Vogue, Cosmopolitan and Harpar's Bazaar, and also in many adverts - including a memorable advertisement for Smirnoff vodka and an advert for a strapless bra's. Whilst not a super model, she was starting to enter the second tier - recognised and reasonably well paid.

Tula appeared with her sister on Page 3 of The Sun newspaper on April 6, 1978
Tula's attractive and physically impressive appearance also resulted in several 'Page 3' topless assignments for UK national newspapers, and nude appearances in men's magazines as diverse as the Spanish Intervui, the American Gallery, Swedish Se, French Oui and the West German Schlusselloch. It is fair to say that the excellent appearance of her 37C bust was a major aid to her career - agencies and photographers were used to breast augmented models and with a little body makeup and some touching up of photos, the scars under the fold of her breasts were impossible to detect.
Totally passable, she admits that her private life during this period was "a bit wild". She led a very active sex life as a woman - none of her many male lovers ever doubting that she was a woman. In 1979 she had a brief "kiss and tell" affair with a TV celebrity, Des Lynam - with no hint of her past appearing in the newspaper report.

Tula appeared in a few episodes of the British TV show 1-2-3. (Left) As a secretary she was taller than the show's host. (Right) An unintentionally humorous moment was when a short actor dressed as a diver carried 6ft tall Tula attired as a Mermaid.
Tula also began a budding career as an actress and appeared in small parts in several British TV shows. These included small appearances as an extra in the Two Ronnie's, Robin's Nest, The Other One and a minor role as a girlfriend (including a kissing scene) in The Up Chat Line. In 1978 she became a hostess on the popular game show 3-2-1, but after six months had to ask to be released from her contract as she was being threatened with being out'ed as a transsexual by a journalist who recognised her from her early days as Caroline.
Tula's budding career as an actress culminated in 1981 with a famous (although very brief) appearance in the film For Your Eyes Only, the film's release coincided with her getting a full page topless appearance as a Bond Girl in the June 1981 edition of Playboy magazine.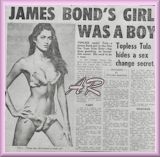 Playboy was clearly impressed and Tula was flown to Guadeloupe to be photographed for a Playboy centrefold likely to appear in December 1981 - but disaster struck in September 1981 when the News of the World newspaper published an article revealing that Tula was transsexual with the headline "James Bond's Girl Was a Boy".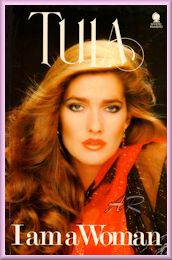 Tula was devastated but made the best of the situation by rushing out an autobiography, I am a Woman. Her modeling career seemed have been destroyed, however in November 1982 she featured in Mayfair magazine. The article entitled "Tula, the amazing James Bond starlet who was born a boy" had sizzling nude photos which briefly made her the most famous transsexual in the world. Over the next few years, rival men's magazines such as Lui, Oui, Playgirl, Playmen and Penthouse followed suit with their own photo spreads of Tula.
Caroline's personal life throughout was always lively, featuring besotted admirers, a confined life as a mistress in Kuwait in 1974, an engagement to an Italian Count (who persuaded her to stop modeling in 1985)... and even a rumour that she would marry Italian transgendered actress Eva Robin's!
The failed engagement resulted in her becoming a activist for transgender rights, and in particular the right to legally marry as a woman. A legal case she began in 1984 would eventually escalate through almost all British and European courts.
In 1989 she seemed finally set to live happily ever after, with a fairy tale wedding to an Israeli millionaire. But she returned from honeymoon to face another exposť from the News of the World newspaper, which soon resulted in her marriage being annulled. Ironically, and almost simultaneously, the European Court of Human Rights legally recognised her as a woman - and thus effectively recognising her marriage! But even this victory turned to dust when it was overturned in September the following year, after an appeal by the British government. However Caroline had started a process which finally led to the Gender Recognition Act 2004, which allows transgender people in the United Kingdom to change their legal sex.

In 1992 Caroline (right) attended an event in her honour by the American Educational Gender Information Service - one of her last public appearances for over a decade.
The failure of her marriage and court battles resulted in Caroline releasing an updated biography in 1991 - My Story. She briefly returned to modelling to help promote this, and approached Playboy magazine offering to do a new pictorial for them. Arguably her most significant moment as a model was her appearance in the UK and USA September 1991 editions of Playboy magazine - an acknowledged male-to-female transsexual being photographed nude for a leading men's magazine at the ancient age of age 37!
In 1990 she met David Finch, a Canadian national. In 1991 she moved to Atlanta in the USA to live with him, and was soon making regular appearances on American TV and at other events. Atlanta awarded her an honorary citizenship - which the city's Mayor, Maynard Jackson, astoundingly publicly condemned when he became aware that she was a transsexual.
Caroline, 2015
In 1992 Caroline married David and almost immediately the now Mrs Finch slipped into obscurity (aka stealth) - although old photo's of her were still appearing in men's magazines as late as 1995, albeit with her sex change often as a surprise twist. Astonishingly she then managed to avoid any publicity for a decade.
Caroline Finch re-emerged in public when in June 2015 she gave an "exclusive" interview to the UK newspaper Daily Mail to help publicise the release of an e-book version of her autobiography. The interview was generally unrevealing, but confirmed that she still lives in the Atlanta area. It also consistently used the the term 'Ms Cossey' rather than 'Mrs Finch' - presumably because she is best known by her maiden name. Carline has since been active on-live as trans advocate.

(Above) Some of Caroline's many magazine covers between the late 1970's and early 1990's.
(Below) A selection of other pictures of Tula/Caroline