Roberta Close was born in Rio de Janeiro, Brazil, in December 1964 (although strangely her autobiography claims 1965). She was christened Luíz Roberto Gambine Moreira but in daily life uses Luiza Bambine Moreira, a name she legally adopted in Switzerland. Roberta Close is actually her stage name which she later adopted, "Close" apparently coming from the first magazine she modelled for. Since changing her name she's been fighting a highly publicised battle in Brazilian courts against a ban on her using the name Luiza and the gender "Female" on official Brazilian documents, which she has only recently won.

The young teenage Roberta with her parents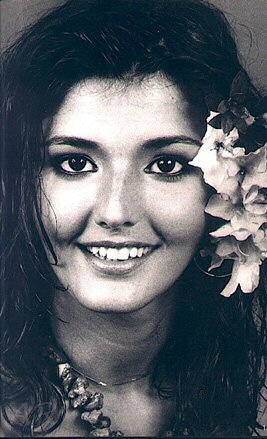 Roberta, age 18 (left) and 20
The young Luíz was always a very pretty looking boy and began wearing women's clothing while still in his mid-teens, much to the dismay of his family and particularly his/her father. She also started to secretly have female hormone injections and Roberta briefly "worked the streets" of the Lapa district with the other 'travestis'. In 1981, age 17, her career started to take-off and she increasingly became a media darling - appearing in magazines, periodicals and advertising.
At age 18 she was called up for compulsory military service. She reported to the interview office wearing a white dress and looking as feminine as possible in appearance, she recalls that the affect was unintentionally but provocatively enhanced by the dress becoming wet from rain! Upon her arrival, a very confused guard asked her to tell her brother to report the next day. Once eventually inside, the examining Sergeant quickly arranged her exemption. But sadly her father (then a senior military officer) was scandalized by the episode, and rejected her for several years.
By the age of 20, Roberta's amazing body shape (probably enhanced by silicone) and beautiful face had made her famous as a model and actress. She won the Miss Gay Brazil contest and during a subsequent guest appearance at the Miss Brazil contest embarrassingly over shadowed many of the contestants in looks and beauty. She also became the first "shemale" to appear nude in Brazilian Playboy. In 1984 the periodical Weekly Word News had a front page headline declaring that "The world's most beautiful model is really a man". She then starred in the 1986 movie Si tu vas a Rio... tu meurs and became the subject of the hit song Close by Roberto Carlos and Erasmo Carlos.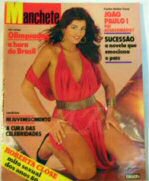 Although happy as a "pre-op" girl, pressure (reputedly) from agents and photographers finally led to her having a SRS operation in London in August 1989. Now accepting herself as woman, she regards menstruation as being an important part of womanhood - one implausible tale claims to such an extant that she has simulated having her monthly period by wearing tampons stained with chicken blood. Her biggest but most impossible wish is to become pregnant, she sadly says "No woman who can't bear a child can ever feel that she's really complete."
In 1992, the 8th District Family Court in Rio decided that the post-surgery Roberta could use her female name on official documents, but after much dispute the Supreme Court finally ruled against her in 1997. In April 1999 she was even arrested for using a false passport which identified her as Luiza and female.

The results of her surgery were well displayed in the men's magazine Sexy during the mid-1990's, and in one poll she was voted the most beautiful woman in Brazil!

Since then Roberta has continued to develop her acting career and recently played a cabaret singer in the TV soap Mandacaru. Currently she hosts a late night talk show called De Noite na Cama (In Bed at Night), and she also still models and often features in adverts.
In 1993 she married a Swiss manager, Roland Granacher (left), and for many years lived with him in Zurich. However the marriage could not have been helped by Roberta's extraordinary sequence of famous lovers and admirers, a list which includes Robert DeNiro, George Clooney, Eddie Murphy and Francis Coppola, and which is chronicled in her kiss-and-tell autobiography "Muito Prazer, Roberta Close" (Much Pleasure, Roberta Close, edited by Lucia Rito) which was published in 1998. Although Roberta and Roland supposedly separated in the Spring of 2000, they continue to occasionally be seen together in public and have not apparently divorced.
On 4 March 2005, a landmark decision by Judge Leise Rodrigues de Lima Espiritu Santo of the 9th Family Court of Rio de Janeiro recognized Roberta Close as a woman. In the decision, which was based on the opinion of medical specialists, the judge wrote that "the law should keep up with scientific progress, because man creates, applies and is held to legal norms, whether they be the most antiquated and obsolete or the most advanced and visionary." Based on the judicial writ, a new birth certificate was issued by the Office of Public Records, affirming that on December 7, 1964, a child of female sex was born and was given the name of Roberta Gambine Moreira. With this new certificate in her possession, Roberta can now discard all her earlier documents and her new passport will show her as female.
Compared to many Brazilian "travesties", her surgeries have been quite limited - but that is relative! By 1980 she had had breast augmentation, albeit to just a modest B cup. Further surgeries followed at occasional intervals, and by 2010 she was an impressive D cup. It appears that in the early 1980's she had hip and buttock implants, these have slowly dropped and become something of an embarrassment. Roberta has always had a very pretty face, slightly marred by a rather large and very straight nose in profile. Around 2008 she had rhinoplasty surgery which completely changed the profile of her nose - it is now much smaller, and cutely turned up at the end.
Roberta gives her vital statistics as: height 180 centimetres (5' 10½"), bust 93 cm (37"), waist 78 cm (30½") and hips 103 cm (40½"). She also says that her hobby is collecting Barbie dolls!
Roberta used to have an official website at http://www.robertaclose.com.br, but it went off-line in early 2002.