One of the stranger news stories of 2001 concerns Miss France 2001, Mlle Elodie Gossuin. This 20 year old French student nurse and beauty queen briefly became the most famous transsexual woman since Dana International won the Eurovision Song Contest in 1998 when it was reported by an internet newspaper that she might in fact be a man!

Mlle Elodie Gossuin won the regional Miss Picardie beauty queen pageant, held at St Quentin on 4 November 2000. This qualified her for the Miss France 2001 competition to held in Monaco, which she in turn duly won on 9 December 2000 - in turn qualifying her for the Miss Universe 2001 contest.

Shortly after the Miss France 2001 pageant, Paris Match magazine published the following article which should be made compulsory reading for all those who subsequently doubted her "womanhood". I apologise for all the mistakes I have undoubtedly made in translation from the original French.

MISS FRANCE 2001

Miss Picardie
Elodie GOSSUIN
( 19 years / 1m 78cm )



Elodie bathes in happiness
11 million television viewers saw the election of the prettiest girl of France. The first winner of the third millennium, the beauty has achieved a dream. Paris Match has an excusive report.

1.78 metres of pure happiness: Miss Picardy has been voted Miss France. A star was born.


Elodie in the land of her dreams. With the
arm-band of Miss France, the young woman also has that of Miss Picardie.


Morning breakfast on the terrace of the
Maeterlinck Palace in Nice. The chambermaid waits for her autograph. A new life starts...


The very new Miss France contemplates herself in the mirror and makes an assessment of her personality: "I'm modest," she says "obsessive, intoxicated, artless, sociable and hyperactive"

Relaxed calm and happy: shortly after her election, Elodie Gossuin enjoys her triumph... wearing jeans and tennis shoes. The jury and the millions of television viewers elected the young woman for her bright beauty, but also for her femininity and simplicity. One can only agree with their choice: Miss France 2001 radiates like a star. A little dazzled perhaps, by her success. "I don't know what I have more of than the others" she acknowledges "At most I hoped to placed among the twelve finalists." It was a friend who pushed Elodie to enter her first beauty contest. Elected Lily of the valley of Compiegne, then Miss Picardie in November, this 20 year old student nurse beat at the post Stéphanie Faby, Miss Corsican, 18 years, the only serious competitor to Elodie. The runners up were: Navy Clouet (Miss Poitou-Charentes, 23 years), Nawal Benhlal (Miss Lyon, 20 years) and Elects Duboquet (Miss Flanders, 18 years).


Like a relay, Sonia Rolland, Miss France 2000,
places her crown on the head of Elodie Gossuin.

With joy, she cries under her crown: "I didn't know any more who I was, where I was, or how I won "

Hearing the news of her win, Miss France 2001 raises her eyes to the sky... and melts in to tears. This scintillating crown which Elodie Gossuin has dreamed of. Her youthful style has allured the members of the jury - under the direction of Alain Delon - the Olympic champion David Douillet, Robert Sabatier of the Goncourt Academy, the football champion Frank Leboeuf, T.F.1 presenter Jean-Pierre Pernaut, the figure skating couple Marina Anissina and Gwendal Peizerat, two former Miss France, Peggy Zlotkowski (1989) and Patricia Spehar (1997), and Vladimir Cosma, who composed the music for the ceremony.

After the paradise, the hell starts.
The one day old queen has only two hours to dream of Abdel and his promise of marriage. With the alarm clock the swirl will start.

5 o'clock in the morning at the Maeterlinck Palace, after the official reception dinner and an insane night of celebrating, the new Cinderella finally collapsed, exhausted, on the bed in her suite. "I'm living a dream," she explains to our reporters who come to wake her at 7 am. "I am in this hotel, I see this scarf Miss France 2001 and I'm in a fairy tale. I do not know how I will manage the future. I am already afraid of notoriety" In facing the challenges of the following days, Elodie knows that it can count on her close relations: her mother, Lysiane, who came to join her in Monaco; her father-in-law, Domenica; her sister, Amélie, 14 years; and her friends in of Trosly-Breuil, the Picardy village where she lives. "I do not know anybody who doesn't get along with her", confesses Abdel, 22 years old, and her boyfriend for three years. They're engaged? Wow! The heart of Elodie, the most beautiful girl in France, is no longer free to be won.


Elodie in the arms of her mother, Lysiane, an
Accountant, and of her father-in-law, Domenica,
a Technical Director in electronics. She had not
seen them for three weeks.
She envisages that the next year she will resume her nursing studies. "After living in luxury hotels, it's likely I will find strange living on carrots at the hospital", she confides

In the fairy tale, Cinderella stops dancing at midnight For Elodie, the marathon of glory and beauty calmed down at 4.30 in the morning, when she traveled with a presidential escort to the Pelléas and Mélisande Suite at the Maeterlinck in Nice. Its only fifteen minutes along the low cornice in a city overrun by a European Summit. An almost invisible procession, the Riviera at night is well controlled. And that evening, the only prince available, Albert of Monaco, was absent.

Less than two hours of sleep. At 7 am, the make-up girl and hairdresser arrive, brush and paintbrushes in hand. Hardly enough time to swallow some breakfast on the large terrace in front of the blue of the Mediterranean. Not even a Jacuzzi.

"Next year, I hope to resume my nursing studies" said Elodie Gossuin "I like really the job. That said, if I eat my meals every day in de luxe hotels, it will be strange to find myself back to eating carrots ever day at the hospital!" A clever child, born in Rheims, December 15, 1980, Sagittarius, Elodie always wanted to be the first in everything. "She wants to be successful in everthing that she undertakes", declares Lysiane, her mother. After two years of medicine, Elodie became a nurse. She likes the contact with the patients. She would like to devote herself to Pediatrics.

Elodie was 3 years old when her father separated from her mom, an accountant. Lysiane remade her life with Domenica, an electronics engineer. Elodie calls Domenica "Dad". He did not raise her like the two other children of the couple, Amélie and Jérémie, twins 14 year old. All live in a charming house built seven years ago in Trosly-Breuil in Oise, a quiet village of 2000 people.

In Elodie's room the walls are papered of yellow, as if the teenager had always wanted to live close to the sun. In her library are the novels of Mary Higgins Clark and the books on medicine. On the parquet floor steps can be heard, for four years she did ballet dancing. A big bed. And the poodle Gipsy, which accompanies his mistress in her strolls on horseback in the Forest of Compiègne, five minutes on foot from Trosly-Breuil. A painting shows angels looking at the clouds; it is Elodie in wonderland.

Her biggest supporter is Abdel, her boy friend whom she she met at medical college. They have been together three years. From Montreal to Monaco, during the preparation for the competition, they spoke to each other every day.

"I have believed in her since the beginning," said Abdel. "She is wonderful. I do not know anybody who doesn't get along with her. It will be hard not to see her as often as I would like. But one year, that passes quickly... " They had planned to go on holiday to Morocco this summer. "We will put that back to next year", he adds.

" Corsican!", " Picardie!". It seems like a call of ancient military regiments. With the lights down, the monitor retransmits the images of the vote is emphasised. With eyes still wet with disappointment, the beauty queens do not miss a moment of it. On stage, there remains but two in the running. Two pearls of beauty, simplicity and elegance. One brown, Miss Corsican, the other blonde, Miss Picardie. Continental or Island? North or South of France, everyone waits with baited breath. On a drum roll, which announces the most critical moments, Jean-Pierre Foucault holds the public breathless. In their identical white lace dresses, the young ladies brace themselves and support themselves, with frozen smiles and large wide eyes. "A terrible moment ", Elodie later says. On the fifth floor of the brightly lit Grimaldi Forum in Monaco, the Room of the Princes is in hushed. Whispered, one hears the last forecasts of the 41 contestants. "It will be Corsican!", "No, Picardie!". Finally the verdict comes. Foucault announces "Elodie Gossuin". Miss Picardie briefly hesitates. She remembers the election of Miss France 1989 with its well-known of the collection of howlers, and Peggy Zlotkowski collapsing from shock at the feet of Julien Lepers. But Elodie is called again. The face initially tightens, almost convulses, then the pressure slackens in to tears of happiness and relief. "I did not know any more what I had to do, who was which, nor even how I was called!" remembers the pretty blonde. In a frantic rush, the beauty queens, good sports, get ready for the traditional handing-over of the crown. Each one wants to be close to the new Miss France, Year 2001, who already appears inaccessible.

At the end of room, Lysiane and Domenica, (the engineering manager who installed the system of video-surveillance of at the Grimaldi Forum in Monaco) can't see much. It's been forty eight years since their region gained the title. They savor the victory with their daughter Amelie, and a dozen good friends with the song, immortalized by Yves Montand: "That spoke about Picardie/And about the pink roses whom one finds over there/Both of us in love together/We danced on the pink roses of this time." Regrets, maybe other contestants will have it. Remorse, certainly not. They worked at a hellish rate. Until the day before the contest. All problems left outside, they rehearse the stages of the big evening to a medley merry written by Vladimir Cosma. "I shall never get it right", cries the Norman, sitting at the sound system. "On Saturday, it's the election, and I will confuse all the choreographies. It's certain, I'm going to get it all wrong... " Every day, a different Beauty queen breaks-down, while the one from the day re-find's her smile. Three weeks without seeing the family. That begins to make length. "I believe that one quite looks forward to returning home. It's hard. Our parents begin to miss us and one doesn't hold any more up", confided the beauty queen Miss Orléanais on the way back to the Hotel Mirabeau, after eleven hours of rehearsal.


First wear of a red dress and its blue apron in
the garden of the family home. Elodie is already a small timid girl.


Crucial for a girl of good education,
learning horsemanship. Age 18 years.

Saturday evening. The credits scroll across the TV screens. It is not yet the end of the adventure for Miss France. In the room, she sees Amélie, her small sister. Tears in her eyes, Elodie will have to bear her troubles patiently before holding her in her arms. The organisers break her away with the objective of taking her to see the photographers n the first floor of the Forum. The room is ready for the official reception dinner, organized by the Committee. Champagne! One thousand five hundred people settle: the beauty queens find family and friends who have come from everywhere for the event. On a big screen, the contest is rerun. Some can not find words: "I am disappointed not to be in the last twelve. My parents, my brother and my boyfriend paid 1000 francs for their tickets, plus transport, plus the hotel, all that to see me for two minutes on stage", confides Miss Artois-Hainaut, with tears in her eyes. For others, it is euphoria: "I'm so happy! I finally will be able to return at home! enthuses Miss Rhone-Alps radiantly. "I would not have liked to be Miss France. Already, my boyfriend left me three days before my departure after we were together for two years, just because I appeared in the contest." Some beauty queens relax and find a devilish naturalness which they avoided before. "During the pre-selection, I immediately understood that I was toast!" exclaims Miss Gascogne. "I arrived in front of the jury, I did not even have time to present myself, they asked me a question. And hop! Thank you, goodbye!" Another memory in the already well filled life of this charming businesswoman who for two years has imported pieces of furniture from Bali with her partner, to resell at three stores they own.

At the top table drawn up in the center of the room, Genevieve of Fontenay, President of the Miss France Committee presides. Alain Delon, the President of the Jury, and the eleven other voters, among whom are Jean-Pierre Pernaut, Vladimir Cosma, Robert Sabatier, David Douillet, Frank Leboeuf... Star among the stars, Elodie did not dare yet to believe it all yet. Too much modest to think she was the most important guest. At age three years, she fell and gained a pretty scar on her face. More beautiful than a crown.


Alain Delon, President of the Jury, would have perhaps preferred Miss Corsican. He nevertheless seems satisfied to have to sit between Miss France 2001 and Miss France 2000 at the official reception dinner.

Age 4 years, she rocks her doll.

Age 8 years, she smiles timidly.

Age 18 years, happy, she starts
nursing studies.
Elodie's win of the Miss France 2001 pageant received huge publicity in France. The win also qualified her to enter the Miss Universe 2001 pageant, to be on held on the 11th May 2001 in Puerto Rico. However just before the Miss Universe contest began, newspapers worldwide published articles suggesting that she was actually a male transvestite, or a post-operative transsexual.
The starting point for these articles can be traced back to 8 January 2001 when the French language internet newspaper L'Examineur published the following report (again I apologise for all errors in my translation):
Miss France 2001 may be a man
Elodie Gossuin, Miss France 2001, could actually be called Nicolas Levanneur

Elodie Gossuin, Miss France 2001


Michou, the king of the Parisian nights

After the Mareva Galanter affair, which charged the Steering Committee with rigging the election of Miss France because of an obscure relationship between the 1999 winner and Genevieve of Fontenay, there now comes the Nicolas Levanneur affair, this being perhaps the legal name of Elodie Gossuin, Miss France 2001.

Who could have believed that the graceful body of Miss France 2001 was actually that of a man? Who didn't feel enthralled by these harmonious curves, these pure features and this angelic smile? They are however that of a 27 year old young man, Nicolas Levanneur, dancer in a transvestite cabaret in Paris, which certainly did not imagine that he would win the bet that his friends set him over drinks late one night in 1999: to become the new Miss France.

Nicolas, of Picardy origin, entered the Miss Picardie contest in the course of January* 2000, which he won with ease. After that events carry him away and everything happens very fast. "The hardest part", says Nicolas, "is to disguise my voice; I become a woman when I slip on clothes of a woman, it is my trade and I have practised it for seven years. But my female voice requires permanent concentration."

But his voice doesn't not betray him and he simulates emotion when he receives the victory crown from the hands of our national Alain Delon, in front of millions of television viewers: "I even pretended to begin to faint to reinforce the credibility of the character, even though I knew that my bet was won."

If Genevieve of Fontenay remains silent, Michou, owner of the famous Transvestite Cabaret At Michou, mischievously hopes to see hundreds of unexpected new customers arriving. "This business is amazingly good for us. We are closed until March and Nicolas doesn't work here now, but he knows that my doors are wide open for him to carry on at the review." Who said that Beauty Queens were bad at assuring their future?

Stéphane Rose
* This seems to be a mistake as the contest was actually held in November 2000
The Miss Universe 2001 Pageant
After L'Examineur first published the story in early January 2001, it only slowly spread around the Internet before picking up steam in April when Puerto Rican papers began questioning Gossuin's gender. According to E!, "The local [Puerto Rican] tabloids pointed out with glee that Gossuin had unusually large hands and her forehead sported a scar - supposedly telltale signs that the contestant had undergone a sex-change operation." The New York Daily News published the story on 24th April and it was then immediately picked up by all the major news agencies, which in turn fed the worlds media with "Miss France is a man!", this became headline news from Britain to Japan to Russia to South Africa within hours.

Elodie's official Miss Universe 2001 picture
Mlle Gossuin arrived in Puerto Rico on Monday, 23 April to prepare for the pageant. Unfortunately the initial reaction of the Miss Universe organisers to Elodie's arrival wasn't very helpful in refuting the "Miss France is a man" allegation. Reporters were informally told by officials that Miss Gossuin was "due to be interrogated" [an extra-ordinary term to have used] about whether she was a transsexual or a transvestite.
Mary Hilliard McMillan, a spokesman for Miss Universe, said "At the moment we're treating her as a normal delegate" adding that a doctor was being called in to examine Mlle Gossuin. "Our regulations say that all delegates must be natural-born females. If she does turn out to be a man, we'll put her on the first plane back to France. ... She is going through registration and being fitted for a gown and swimsuit. There will be some determination. Wardrobe ladies have instructions to report immediately." Ms McMillan also said that the organizers hadn't yet been able to put the question of her sex to Gossuin or her handlers because "they've been travelling".
A "close inspection" during swimsuit and ball gown fittings apparently left most officials convinced. Stylists declared that if Elodie were a man there was no way she could have hid it - "She was totally at ease in all her bathing suits," explained Karyl Gonzales, one of the pageant's wardrobe stylists, "[She had] a body to die for."
The next day, Tuesday, Ms McMillan stated: "So far, all signs point to the fact that she's a female. She has a birth certificate that says she is a woman and she is one of the most stunning women I've ever seen. She's very feminine." .
The issue was finally officially resolved when the officials decided to impose upon Elodie a rule which was supposed to go in to effect for the next contest, in 2002. A few years earlier the Miss Universe officials had learnt that a male-to-female transsexual had won a female beauty contest in Asia, they decided to change a rule that required contestants be a 'female citizen' of their countries to also require them to be a 'natural born woman'. Miss Gossuin duly signed a declaration that she was a French woman and 'I have never been a man'.
A few hours later, Hilliard McMillan finally dismissed the transsexual allegation as "just a nasty rumour", she said that if there was a problem it would have been detected in the swimsuit fitting. "I have just seen her and she is beautiful, absolutely stunning, and she is in fact a female. ... We have not needed to do any medical tests or anything like that - she is definitely a woman. .... She is what she says she is. There is no doubt. She's gorgeous and everything is going ahead as planned."
Elodie broke her own self-imposed silence on the Wednesday, she was adamant in her denial of the allegations stating, "Absolutely not! .... Because the rumours are so unfounded, I will move ahead and have a great time." Also on the Wednesday Frederic Royer, editor of L'Examineur admitted that the original story was intended as a satirical joke and he could not believe that it had been taken so seriously.
Her ordeal finally over, Elodie competed in the main Miss Universe Pageant on 11th of May, reaching the evening gown competition as one of the top ten finalists.

Elodie Gossuin, Miss France 2001, poses in her official Bluepoint Swim swimwear before the annual swimsuit poster photo shoot at the Westin Rio Mar Beach Hotel & Resort in Puerto Rico on April 26, 2001


National Costume Competition


Ball Gown Competition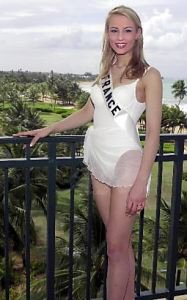 Press Manipulation?
It does seem unlikely that Elodie Gossuin and the Miss Universe organising committee were really unaware of the L'Examineur report until just before the pageant prelimaries began in late April 2001. Indeed, L'Examineur does imply (for what little it may be worth) that Elodie must have known of their article by mid-March. The suspicion has to be that the organisers of Miss Universe, and perhaps Elodie herself, didn't take the rumours seriously enough, or they may have been operating on an "any publicity is good publicity" basis until it all got completely out of hand. Apparently at one point some of the other beauty queens got very jealous about all the publicity Miss France was receiving!
Before the major news agencies picked up on the transsexual story it would have been easy for Elodie, or the organisers of the Miss France or Miss Universe pageants, to have completely killed the story with a firm denial backed by a few documents (birth certificate, passport) and some childhood photos such as Paris Match published in two articles, the first of which is translated above, a link to the second is here. Paris Match also saw her Birth Certificate which was marked "Elodie, Nadia, Roselyne Gossuin" and "Born of female sex". It was dated two days after her birth on 15 December 1980.
If the sex of Miss France was really in any doubt, the Miss Universe organisers could have approached her for evidence that she was a "natural born woman" before she arrived in Puerto Rico for the pageant on Monday 23 April. Instead, just as the pageant preliminaries began, the story exploded in to a major news item that was run by most of the worlds TV and press, and media interest in Elodie reached astonishing heights. The Miss Universe organisers may not have been totally unhappy with this outcome, and the media were also perhaps happy to have a good, juicy, gossip story to fill their pages and airtime, no matter how unlikely it might be.
This photo of the elusive Nicolas Levanneur appeared in some media reports. With penciled eyebrows there would be a resemblance to Elodie.
The Non-Evidence
The core of the original L'Examineur story was an unsupported claim that Elodie Gossuin was actually the female persona of a 27 year old male transvestite born Nicolas Levanneur. No pictures of M. Levanneur were published by L'Examineur, only that of the owner of the small Chez Michou cabaret in Paris. The name was eventually linked by French media to a dancer who briefly worked at the cabaret, and a picture appeared that supposedly showed Nicolas Levanneur, age 27. The appearance of the person in the photo is that of an attractive young woman, arguably it could show a transgendered woman on hormone therapy and perhaps after surgery.
No organisation managed to contact Nicholas - leaving the strong possibility that he didn't exist, and the very slight possibility that he was now Elodie.
The story was also very implausible given the physically revealing nature of beauty contests back-stage. For a man with a penis to escape detection in at least three major beauty pageants stretched all credibility. This major problem was avoided in some later media reports by suggesting that Elodie was a post-operative male-to-female transsexual woman.
The physical evidence that Elodie was a transvestite male, or slightly more plausibly a post-operative male-to-female transsexual seems to have been based on a few items of physical evidence:
At about 5' 10", Elodie is tall for a woman

She has quite large hands and feet (size 8 UK)

In some pictures she appears to be much older than her claimed 19 years

She has facial scars which could be evidence of extensive plastic surgery for facial feminisation.
These points are all minor, circumstantial and inclusive. Even in total they are hardly serious evidence of transsexuality, let alone convincing proof. Many beauty queens and models are exceptionally tall, many women have large hands, and as Miss Brazil noted, many of the girls in the Miss Universe contest had been surgically "enhanced", including herself 17 times! Elodie also, and correctly, pointed out that the contestants in the Miss France Pageant are forbidden to have had any cosmetic surgery or liposuction. If this hadn't been the case she would have had the scar(s) near her eyebrows - which was caused by a childhood accident - removed. She stated, "You have to be completely natural."
Elodie also freely admitted that she was in fact now 20 years old, her birthday being just a week after the Miss France contest. At worse, some photos show an unusual amount of wrinkles and dry skin problems for someone of her youthful age.
Conclusion
Overall, given the complete lack of real evidence, the fact that the world press widely reported the story in various forms is quite astonishing. It's also amazing unless you subscribe to the opinion 'all publicity is good publicity' that the press and the Miss Universe organisers actually gave the story some credence, initially at least. Understandably this all eventually became very upsetting for the 20 year old Miss Gossuin - regardless of whether she may have colluded in the early stages.

Eileen Davidson
The whole "Miss France is a Man!" affair was effectively a media invention which most affected the unfortunate victim, Miss Gossuin. However, the sensationalist way in which the story was presented casts a worrying light on how transsexual women are still perceived by the press and public. As Dana International has also shown in recent years, we are still a long way away from a beautiful transsexual women simply being regarded as a beautiful woman, at least in the so called "western" world.
Other Transsexual "Exposures"
Mlle Elodie is far from being the first woman who at some time has experienced the misfortune of being alleged, almost certainly falsely, of being a transsexual. For example American actress Eileen Davidson has endured gossip about her having being a man since the mid-1980's, as has another actress, Lauren Hutton. More recently, the young singer Ciara Harris has been the target of much speculation that she is a transsexual woman, apparently due to confusion with a transsexual of the same name and her boy'ish build.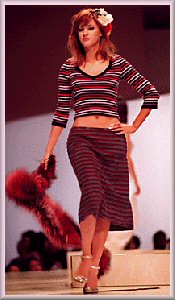 Anna Umemiya is a top model and actress in Japan. Her rumoured AIS condition was disproved when she gave birth to a daughter in 2002.
While such allegations can usually be laughed off, or convincingly denied with more or less ease (e.g. getting pregnant!), understandably when rumours persist the woman in question is rarely willing to submit to indignity of the thorough medical examinations and genetic testing needed in order to disprove them. There is also the possibility that indicators and signs that are mistaken as evidence of transsexuality may in fact be caused by some other medical disorder (e.g. Androgen Insensitivity Syndrome), which the woman may be nearly as uncomfortable in admitting to.
Of course occasionally the press gets the story about right. In Britain, Caroline Cossey, April Ashley and Larissa Summers are examples of models who've been revealed by the press as being male-to-female transsexuals, thereby greatly damaging their careers and hopes for future.
An interesting contrast to the struggles of these western trangendered women is presented by South Korean models Ha Ri-Su and Alicia Liu. After being 'outed', both have actually gone on to far greater success.
---

Elodie with twins Jules and Rose. [Gala Magazine]

Postscript 1

On 21 December 2007 Elodie gave birth to twins Jules and Rose. The father is her partner, Bertrand Lachériein.

Mlle Elodie had a wonderful official website at http://www.elodiegossuin.net for many years - in the French language but with lots of pictures! Unfortunately it went off-line in 2013.

Elodie's

wiki entry is here.
---
Postscript 2
I've read through this page 15 years after it was first written, and it seems extraordinarily dated.

24-year old model Chen Lili was accepted for the Miss Universe China contest as an "unmarried healthy female between 18 to 27 years old". However the next day it was 'clarified' that female meant "natural female", and Chen was not eligible being transsexual.

Whilst Elodie was not a transsexual, she forced the major beauty pageants (particularly the so-called Big 4: Miss World, Miss Universe. Miss International and Miss Earth) to briefly consider the possibility that a small number of their contestants were not genetically XX (e.g. women with AIS), or born a cisgender women (i.e. they were trangender). But like in sport, they struggled to define who was eligible to enter a "Miss" beauty pageant - if only to stop some competitions degenerating in to a farce due to the participation of male entrants such as "drag" queens. In the end, nothing happened for a decade.

The problem reached another crisis point in 2012 when Jenna Talackova (age 23) registered for Miss Universe Canada 2012 and was accepted. However someone informed the organisers that Jenna was transgender, which was technically correct as her original birth certificate said that she was "Male". She transitioned age 14 and had sex-reassignment surgery age 19, but Canada had not at the time passed any legislation that made transwomen legally "Female".

All the Big 4 pageants at the time had variations of a rule that "the contestant must be a natural born woman". Transgender woman Chen Lili had previously entered Miss Universe China 2004, her entry was initially accepted but later rejected on the grounds that she was not a "natural female". Donald Trump (later elected President of the USA) personally intervened to stop the same happening to Jenna. She competed and finished in the top 12 when the pageant was held in May 2012.

Miss Belgium 2016 contestant Céline Van Den Bossche. Local newspapers supported the hairdresser, she was only out'ed after the contest.
The eligibility rule has now (December 2016) been changed to variations of "the contestant must be medically and legally recognised as female". The new meaning is still very ambiguous as it varies from country to country, in practice the organisers probably hope that it means years of female hormone treatment, sex re-assignment surgery and a female passport.
Transgender women entering major beauty contests since the rule changes include:
Jackie Green, entered Miss England 2012 (Finalist)

Céline Van Den Bossche, qualified for the final of Miss Universe Belgium 2016

Kylan Arianna Wenzel, entered Miss California USA 2013

Ángela Maria Ponce, Miss World Cadiz 2015 and entered Miss World Spain 2015 (unplaced)

From left to right: Jacki Green, Jenna Talackova, Kylan Wenzel, Chen Lili, Angela Ponce
It briefly seemed that the Philippines would be represented by a transgender contestant (Carla Marie Madrigal) at the finals of Miss Universe 2015 when their original choice (Pia Wurtzbach) was disqualified because she was half German. However Pia was eventually reinstated and went on to win the contest.
---
Postscript 3
Angela Ponce
Angelo was born a boy in January 1991 but began to have doubts about his gender from age 11 (shown right). She transitioned to Angela in her late teens and after several years of hormone therapy had SRS in April 2014, age 23.
Angela was working as a waitress in the family restaurant when she entered and won the Miss Cadiz regional contest in August 2015, apparently a pretty local girl with modelling ambitions.
She progressed to the Miss World Spain final in October 2015 and was the bookmakers favourite until someone in the media spotted that she was involved in a project to help transgender children called Fundación Daniela. She was open about being transgender in subsequent interviews - it just had not been raised as a question before.
Angela lost the pageant to the eventual Miss World - Mireia Lalaguna.
Angela then worked as a promotional model, before entering the 2018 Miss Universe Spain contest at the relatively old age of 26. She made the news world-wide when on 29 June 2018 she won the contest (left). As such, she was the first openly transgender woman to win a national-level title in one of the big-four beauty pageants - Earth, International, World and Universe.
When the finals were held in Bangkok, Thailand on 17 December 2018, Angela was one of the 74 out of 94 contestants eliminated in the first round. However she was allowed to briefly celebrate her participation on stage (right) and received huge acclamation on social media.
---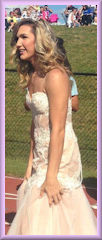 Postscript 4
As we move in the late 2010's, the number of transwoman contestants in beauty pageants is increasingly exponentially, even excluding the proliferation of "Miss Trans XYZ" competition's.
It has also been pointed out to me (I'm British!) that in the USA local titles such as Prom Queen and Miss Homecoming Queen are extremely competitive and much sought after by teenage girls. It seems that an ever increasing number of these are being won by openly transgender girls, e.g. Landon Patterson (pictured right), Cassidy Campbell, Corey Rae, Jenna Santori, Calvin Rausch, Corey Maison, and many others.