Note: This short biography is derived from the scanty English language sources I have found on Ha Ri-Su, and probably contains many inaccuracies. Unfortunately her official website is no longer online, I would be grateful appreciate for any corrections or additional information.
Screen shots from a South Korean TV documentary on Harisu, showing her age 1, 4 and 14
Ha Ri-Su was born as Lee Kyoung-Yeop (also spelt Yi Kyung Yup - and many other variations) on 17 February 1975 in Songnam, a city just southeast of Seoul, South Korea. The date seems certain, although some on-line sources give 1979 as her year of birth. She was apparently the youngest of three brothers and one sister but there is again confusion as to how many brothers and sisters she has - one Korean report even says that she an only brother.
The young Lee never thought of herself as a male, and when he began attending the all-boy Naksaeng High School in Songnam, Lee was always considered very effeminate by his class mates. He was obviously attracted to other boys and at the age of 17 he fell in love with a man - possibly the school's President! After some initial intimacy, Lee's beau rejected the advances from what he saw as being another man, and soon ended the relationship. Lee was devastated. In order to be better accepted as a woman by heterosexual men, she began taking female hormones via an HRT prescription for a menopausal woman that she had somehow obtained.
After leaving school in 1995, Lee took a compulsory physical examination for army enrolment. She was diagnosed as having a serious mental disorder and was exempted from military training.
In 1997 Harisu transitioned full-time as a girl and moved to Japan. She studied at the Tokyo Design School, majoring in Hair Styling.
The next year - age 23 - she underwent breast augmentation, sex reassignment surgery, rhinoplasty, and hip surgery in Japan and South Korea. Who paid for all this expensive surgery remains unknown. Her surgeon for the sex reassignment surgery was South Korean surgeon Dr Kim Seok-Kwon, oddly he apparently later officiated at her wedding. The only member of her family whom she initially told about her SRS was her mother.
After undergoing her sex reassignment surgery, Harisu returned to Japan to complete her course. She graduated in 1999 and then began to work as a hair stylist and nightclub singer. She was discovered by a local talent agency who began giving her small modelling jobs. For this she began using the name Ha Ri-Su (sometimes spelt as Ha Ri-Soo and often simplified to Harisu), which is a Korean adaptation of the English phrase "hot issue."
In 2000 Harisu returned permanently to South Korea. Her father owned a famous Korean bath house and a joint visit to this revealed her SRS. Her father wasn't angry, more disappointed and distant - when Harisu had dinner with her parents on Parents Day (23 May 2000), he said "I-Soo [Harisu] is the most pitiful person." Harisu says that the changed relationship with her parents was the most difficult thing after her SRS operation, and her father still does not really accept that his son is now his daughter.
Harisu started to develop her modelling and acting career in South Korea by landing a few minor roles as an extra in dramas. This very quickly led to a starring role as a transgender biker, J, who works as a nightclub singer in the film Yellow Hair 2 - released in August 2001.
She had another big break when in February 2001 she starred in a television advertisement for Dodo Co.'s new line of facial powder, called Palgantong Fania. In the ad, Harisu stares blankly into the camera, with a nursery rhyme ringing in the background. As the camera zooms in, she lifts her neck and swallows, showing an Adam's apple. (This effect was actually computer generated to give viewers a clue to Harisu's past; Harisu has never had a noticeable Adam's apple). Harisu comments about it: "The concept of the commercial was transgender and I didn't want to lose that chance to debut as a model. I don't want to face people dishonestly. I won't be able to hide it after all. It's better to make it clear from the start".
During the photographic session for the commercial, the production team was apparently astonished by Harisu's physique - it was quoted as being "better than any other woman they had used". This started a unusual rumour - that Harisu was lying about her transsexuality and was really a genetic woman - the exact opposite to what most transsexual women experience! Exploiting this, her marketing tagline became "a woman more beautiful than a woman."
By mid 2001, Harisu had become the first genuinely successful female actress / model / entertainer in South Korea who was openly transgender and post-SRS. She joked: "When I go to be photographed for magazines, they ask me to pose as a sexy and elegant, chic and voluptuous, and simultaneously a cute and innocent woman!"
Building on her sudden success as an in-demand model and actress, Harisu also launched her career as a singer. Her first album, Temptation, was released in September 2001 and peaked at No. 32 on the Koreans chart. Three more albums subsequently appeared, although with decreasing commercial success. She said "Even if I fail, I have no regret. I will have done what I've wanted all along, and that as a woman. I'll have no regret. Well, I may open a beauty salon because hair design is what I studied in Japan for two years.".
Despite her success as a post-SRS woman, Harisu was legally still a male, which caused her many problems, Harisu later said: "My most embarrassing moments were when I have had to show my personal identification card in public... I couldn't get a passport, visa or even my own bank accounts because I was legally a man". In 2002, she filed a petition in Incheon District Court to change her name to Lee Kyung Eun and her gender to female. The court accepted her request and renamed her in the family register to Lee Kyung Eun.


At the peak of her fame Harisu received offers of work from around the world. In addition to South Korea, she worked in China, Japan, and Malaysia. In Malaysia, she appeared in the 2006 Malaysian horror movie Possessed. In the movie, she acted as a singer from Korea who was murdered and eventually became a ghost. In China, she acted in the drama Hi Honey with actor Pace Wu. Harisu's appearance their increased her popularity and she started to star in Taiwanese commercials.
In a Japanese night club in 2005, Harisu met the rapper Miki Jung (also known in English as Miki Zheng, Zheng Yingzhen, ... and many other variations!) who was six years her junior. The pair quickly became infatuated with each other and two years later - on 19 May 2007 - they married. Harisu had already received the betrothal gifts presented by her fiancé in accordance with traditional Korean wedding customs. After getting married Harisu ended her acting and singing career, and devoted herself to the role of wife and home maker.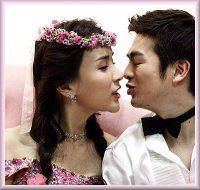 Asked by the local media about the sensitive issue of babies, Harisu said "I asked my boyfriend, 'I can't have a baby, what should we do?'. And he responded so naturally, 'We can adopt.' He consoled me saying the baby will be mine if I give it a blood transfusion."
In fact Harisu became desperate to become pregnant and be a mother. She sought medical help and a uterus transplant seemed just about possible. However because of the very risky and experimental nature of the procedure, the surgeon demanded that she stay in the hospital for the entire period from the initial uterus transplant to the birth of the child - at least a year. Harisu reluctantly said "No" to this. In occasional media interviews, Harisu was vocal about the challenges that transwomen face socially and career-wise in Korea. She is also publicized the barriers that transwomen face in having a family.

Harisu posted this image of herself on Facebook in January 2017.
Sadly Harisu and Miki separated in 2016, and divorced in June 2017. Harisu issued a statement saying: "During our married life, we cared for and loved each other. ... We're still close, and we still support each other." Her inability to bear the children that Miki wanted seems to be the reason why the marriage ended - Harisu has not denied this whilst strongly refuting other suggested explanations such as dubious business deals by Miki or physical abuse.
After keeping a relatively low profile for many years, during 2016 Harisu began to re-emerge in the public domain. Harisu had closed her website and took her blog off-line in 2007. In late 2016, now 41 years old, she joined Instagram, soon followed by Facebook, Youtube and other social media sites. Oddly, a comparison of her new photos with those of a decade earlier (or even two decades earlier!) appeared to show a younger woman.

(Left) A photo of Harisu attending a media event in March 2016. (Right) Harisu published
this photo of herself on social media in December 2019 - age 44.

In September 2016, age 41, Harisu posted a set of photo's showing her weight loss, and a dramatically smaller waist compared to the photos shown below. The photo's appear to have been edited to exaggerate the changes to her waist line.
Initially Harisu said that she used an app to manipulate her photo's, but it soon became apparent that she had also undergone fairly drastic plastic surgery.
Photos and video clips that she's posted since late 2016 show a rather oddly swollen facial appearance with little expression, very tight skin, a slimmer nose, greatly enlarged eyes (almost scary in some photos), augmented lips and a much smaller V shape chin.
In subsequent posts Harisu expressed her delight at having the face of a "20 year old", and enjoyment at being mistaken for the "younger sister" of her nieces. She also said that she had finally achieved the weight and figure that she had always wanted. Her waist has shrunk to the extent that lower rib removal and corset training seems likely.
In 2018 Harisu attempted a musical comeback, starting by posting photos of herself in the studio recording a new album - her first since the mini-album Winter Special in 2007. The single Make Your Life was released in February 2018, followed by the 5 song mini-album Re:Su in July. Press reaction was rather mixed - varying from "Give her a chance ... a great voice" to "Who remembers Harisu?".
Vital Statistics:
In 2003 Harisu's vital statistics were published as being - height: 168 cm (5' 6"); weight: 48kg (106lbs); Bust 35" (34B bra), Waist 24", Hips 35". She was just below the ideal weight (c.52kg) for a woman of her height and build.
In 2017 she claimed to weigh 45kg, and in 2019 just 43kg. If the later is correct then she is now underweight to an unhealthy extent.
The following photos all show Harisu between 2001 and 2006: